Bananas Front Office Team
Carson Bowen
Ticket Experience Director
Hometown:
Apex, NC
College:
UNC Wilmington
Favorite Sweet: Ice Cream Sandwiches
Favorite Movie: Dumb and Dumber
After 7 years in the industry, Carson is excited to be part of the Bananas front office team and dial in on Member Experiences! A proud graduate of UNC-Wilmington, Carson wants to camp in every state in America before he is 30. He will bring his wealth of useless music knowledge and curious spirit to Savannah, where he will strive to become the town's leading expert on local eateries, Bananas tickets, and coffee shops.
Prior to joining the Bananas, Carson helped revitalize his previous team in Wilmington, NC by reinventing the game day experience for fans and doubling attendance from when he first joined the organization as a play-by-play commentator until he finished up his days with the organization as General Manager.
Jared Orton
Hometown:
Burlington, N.C.
College:
Belmont Abbey
Favorite Artist: Taylor Swift
Fun Fact: Decaf Coffee Enthusiast
Jared began working with Fans First Entertainment with Savannah's sister team in Gastonia, NC. while he completed his degree in Sport Management at Belmont Abbey College. While with the Grizzlies, attendance grew to new heights for the franchise as Jared began to tap into new niches of fans in the marketplace. After the 2013 season in Gastonia, Jared became the Assistant General Manager of his hometown Burlington Royals.
Because of a relentless focus on entertainment and ticket sales, the Royals were fortunate to see tremendous growth in attendance and revenue during the 2014 and 2015 seasons. Jared is now taking those experiences, along with the experiences of Fans First Entertainment, to develop a value-packed, non-stop, entertainment experience for Savannah fans. Jared currently lives in Savannah with his wife, Kelsey. Click here to meet Jared!
Berry Aldridge
Baseball Operations Coordinator
Hometown:
Swainsboro, GA
College:
Armstrong State University
Favorite Quote: "Sometimes you win, sometimes you lose, and sometimes it rains." - Ebbie Calvin "Nuke" Laloosh
Interesting Fact: Was chased out of the woods by a mama black bear with cubs.
Berry joined the Banana family full time after interning with the team during the 2016 season. He is now going into his 6th season with the team and is transitioning into a new role, Baseball Operations Coordinator. He is originally from Swainsboro, GA, where his father coached baseball and his mother taught English Literature. He attended Armstrong here in Savannah, GA on a baseball scholarship and earned a Bachelor's degree in English Literature. Berry is excited to work with the coaching staff to teach the Bananas' players our brand of baseball and help them receive national exposure to further their careers.
Patrick Briody
Hometown:
Bluffton, SC
College:
Coastal Carolina University
Hobbies: Golfing, reading, and dressing up as a banana.
Favorite Song: Free Bird- Lynyrd Skynyrd
Patrick, a member of the OG 2016 intern squad, has been with the team since the inaugural season. He looks forward to selling out games and bringing the Bananas experience of a lifetime to different cities on the road. Patrick can be found on any and every golf course in the low country and when he's not in the tee box, he's most likely next to the pond with a fishing pole and some bait. Click here to meet Patrick!
Devon Ashton
Group Experience Coordinator
Hometown:
Hudson, OH
College:
University of South Carolina
Favorite Promotion: Sing in the Blank
Favorite Food: Chicken Fingers
Divalicious Devon interned for the Bananas in 2017 and joined full-time in 2019. Following her graduation from the University of South Carolina, Devon worked as an event coordinator in beautiful Hilton Head Island, SC. Her passion for helping create amazing experiences for people will spearhead her efforts to take care of Bananas fans throughout the year! Devon has been deemed the cat lady of the office with her two cute cats, Remy and Ratchet. Click here to meet Devon!
Kurt Kessler
Group Experience Coordinator
Hometown:
Dalton, GA
College:
Liberty University
Favorite Movie: Forrest Gump
Favorite Restaurant: Mellow Mushroom
Kurt joined the Group Experience Team in January 2021 and has the unique perspective of seeing Bananas games from several different perspectives. Kurt brought a group from his church out to a game in 2017 (where he won the Best Bark Award  at Bark in the Park), worked as Usher Team Captain during the summer of 2020, and now gets the incredible opportunity to help groups find the same amazing experience he had as a group leader. In his free time Kurt loves spending time with his two kids, Isaac and Braeden, and doing woodworking.
Lizzy Mackerty
Hometown:
Hamilton, OH
College:
Ohio University
Favorite Promotion: Dancing in the dark
Favorite BallPark Food: Chicken Sandwiches
Lizzy moved to Savannah in the summer of 2015. She loves the southern charm and all the excitement Savannah has to offer. Lizzy enjoys helping children & families make the best memories possible at Grayson Stadium by coordinating host families, child & adult birthday parties, and both Savannah Bananas baseball camps. She also runs our Merchandise Department! You can always find her in the Banana Stand during games. She looks forward to another successful season full of amazing fans and great baseball! Click here to meet Lizzy!
Marie Matzinger
Hometown:
Greensboro, NC
College:
Gardner-Webb University
Favorite Promotion: Guess-Your-Spouse
Favorite Quote: "Perhaps this is the moment for which you were created." - Ester 4:14
Marie moved to Savannah in 2015 to help Fans First Entertainment launch the new team and has been blessed to see the Banana Pandemonium unfold since day one. She's proud to call Savannah home now and looks forward to seeing how the Bananas can continue to bring this great community together. Click here to meet Marie!
Kara Heater
Hometown:
Savannah, GA
College:
Georgia Southern University
Favorite Drink: Fountain Drink Coca-Cola
Kara joined the Nanner team in 2018 and has blessed the office ever since with her below-average jokes and useless knowledge of the now dispersed boy band, One Direction (may they rest in peace). She is a Savannah native and loves nothing more than the sweet smell of the marsh on that evening ride home. Her favorite part of marketing is being able to build relationships with fans online and get creative with content. When she's not in BananaLand, you can find her at her favorite Mexican Restaurant, Cancun, or sitting on the couch watching YouTube videos.
Savanah Alaniz
Hometown:
Corpus Christi, TX
College:
Texas A&M University-Corpus Christi
Go-to lunch spot: Chipotle
Favorite artist: Mac Miller
Yes, you read that right. Savanah with one N working for the Savannah with two N's Bananas. Coming from the great state of Texas (where everything is in fact bigger), Savanah interned for the Bananas in 2020, claiming the title of TikTok Queen, then joined the team full time in 2021. Her favorite part about marketing is interacting with fans online and then getting to meet them in person at games! When Savanah isn't coming up with fire Instagram captions or teaching players TikTok dances, she loves to hang out with her friends downtown or catch some rays at the beach with a Bud Light in hand.
Zack Frongillo
Director of Entertainment
Hometown:
Littleton, Colorado
College:
University of Nevada Las Vegas
Celebrity Crush: Mikaela Shiffrin
Favorite Podcast: Section 10
Zack joined the Bananas family after the spring series in 2021, and shortly thereafter joined full time during the 2021 CPL Season as the Director of Entertainment. Previously, Zack joined the Vegas Golden Knights Entertainment Team before their Inaugural Season in 2017. Zack was also the Entertainment Director for UNLV Hockey and assisted in regional tournaments with organizations such as the Pac-12, Mountain West, and WAC. When he's not around the stadium, you can find Zack on the golf course or tearing up the local country dance floor. Zack looks forward to making Fans First moments and keeping the crowd engaged and entertained every night.
Johnathan Walters
Stadium Operations Coordinator
Favorite Drink: Arnold Palmer
Favorite Type of Food: Sushi
Johnathan has lived in four different states in his life, but has lived in Savannah for over a decade now. He graduated from a local high school, Benedictine Military School, in 2016. He started working for the Savannah Bananas in 2017 as one of the first ever parking penguins. He worked the following two seasons as a bartender at Top Deck and in Stadium Club.  He was offered a seasonal full-time position for the 2020 season which then led him to a year round full-time position as the Stadium Operations Coordinator. He is thrilled to continue on this journey with the Bananas and to continue putting smiles on the faces of our fans!
Matt Powell
Hometown:
Soperton, GA
College:
University of Georgia
Favorite Movie: The Final Season
Favorite Meal: Hot sauce with a little chicken.
Matt accepted the opportunity to join the Bananas family as a seasonal Ticket Experience Coordinator during the 2018 season and recently accepted the position full-time. Matt spent his time at the University of Georgia yelling and cheering on the Bulldogs. Now in Savannah, he looks forward to bringing his passion for entrepreneurship and love for sports to ensure the greatest fan experience at Historic Grayson Stadium. Click here to meet Matt!
Biko Skalla
Hometown:
Saugerties, NY
College:
Syracuse University
Favorite Movie: The Lord of the Rings
Biko joined the Bananas as the Broadcast Entertainer in 2020 and is the first Emmy-Award winning employee on the Bananas team. No, we're not joking. Hailing from Saugerties, New York, Biko came to Savannah after a couple years at MLB/NHL Network where he was a Broadcast Associate and then an Associate Producer. A Syracuse University graduate, Biko bleeds orange and prides himself a scholar of New York Yankees history. When he's not broadcasting baseball or doing weird interviews with players, you can often find him on his dad and stepmom's farm in Saugerties playing with the dogs or sharing baseball cards with the goats. Keep up with all of Biko's shenanigans on Twitter and Instagram at @BikoRicoSuave!
Emily Cole
Favorite Things: Guys in Yellow Tuxes, Early Morning Runs w/ Girlfriends, Audiobooks, Mac & Cheese, Family Time, Renovating Old Houses, Craft Beer and Traveling
Prior to her work with Fans First Entertainment which began in 2011, Emily spent time with Ripken Baseball and the Augusta GreenJackes as well as the Vermont Lake Monsters and the Binghamton Mets. Emily's biggest passion with the team is working with the full time staff, interns, and hundreds of game day staff workers to focus on the culture,service, and logistics of events held at the ballpark.
After the birth of their son, Maverick, Emily stepped back a little from every day operations to raise Mav and the other children in their care (Jesse and Emily are foster parents) but can still be found often around the stadium. She also oversees their Airbnb rentals on Tybee and is the local Savannah community mom for Bambino, an app that connects parents and babysitters. Emily wrote the team's first children's book, titled Go Bananas! which you can read more about here.
Jesse Cole
Fun Fact: Cole owns seven yellow tuxedos and proposed to his wife Emily in the yellow tux in front of a sold out crowd.  She said Yes!  The two later married at their stadium.  In 2018, they welcomed their first baby banana, Maverick.
Jesse Cole is the founder of Fans First Entertainment and owner of the Savannah Bananas.
His teams have welcomed more than one million fans to their ballparks and have been featured on MSNBC, CNN, ESPN and in Entrepreneur Magazine. 
The Bananas have been awarded Organization of the Year, Entrepreneur of the Year, Business of the Year and won the CPL Championship in their first year.  Fans First Entertainment has been featured on the INC 5000 lists as one of the fastest growing companies in America.
The Savannah Bananas currently have sold out every game since their first season and have a waiting list in the thousands for tickets.
Jesse released his first book "Find Your Yellow Tux – How to Be Successful by Standing Out" in January of 2018 with a World Book Tour…at Epcot. 
Cole has been featured on over 500 podcasts and is an in-demand keynote speaker all over the country sharing the Fans First Experience on how to stand out, be different and create raving fans of both customers and employees.  
Cole is the Host of the Business Done Differently Podcast and has interviewed over 100 of some of the world's leading entrepreneurs, authors and speakers. Click here to meet Jesse!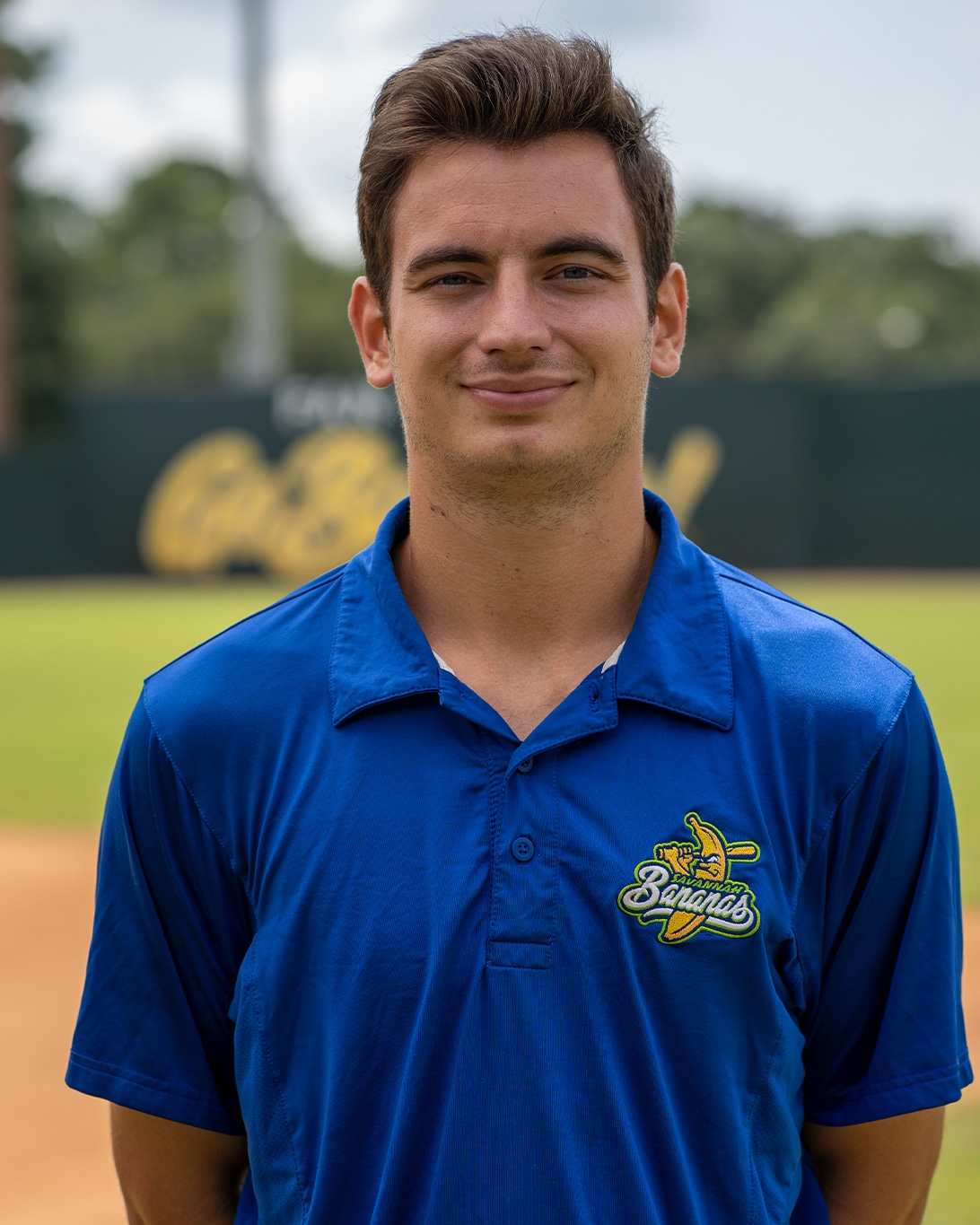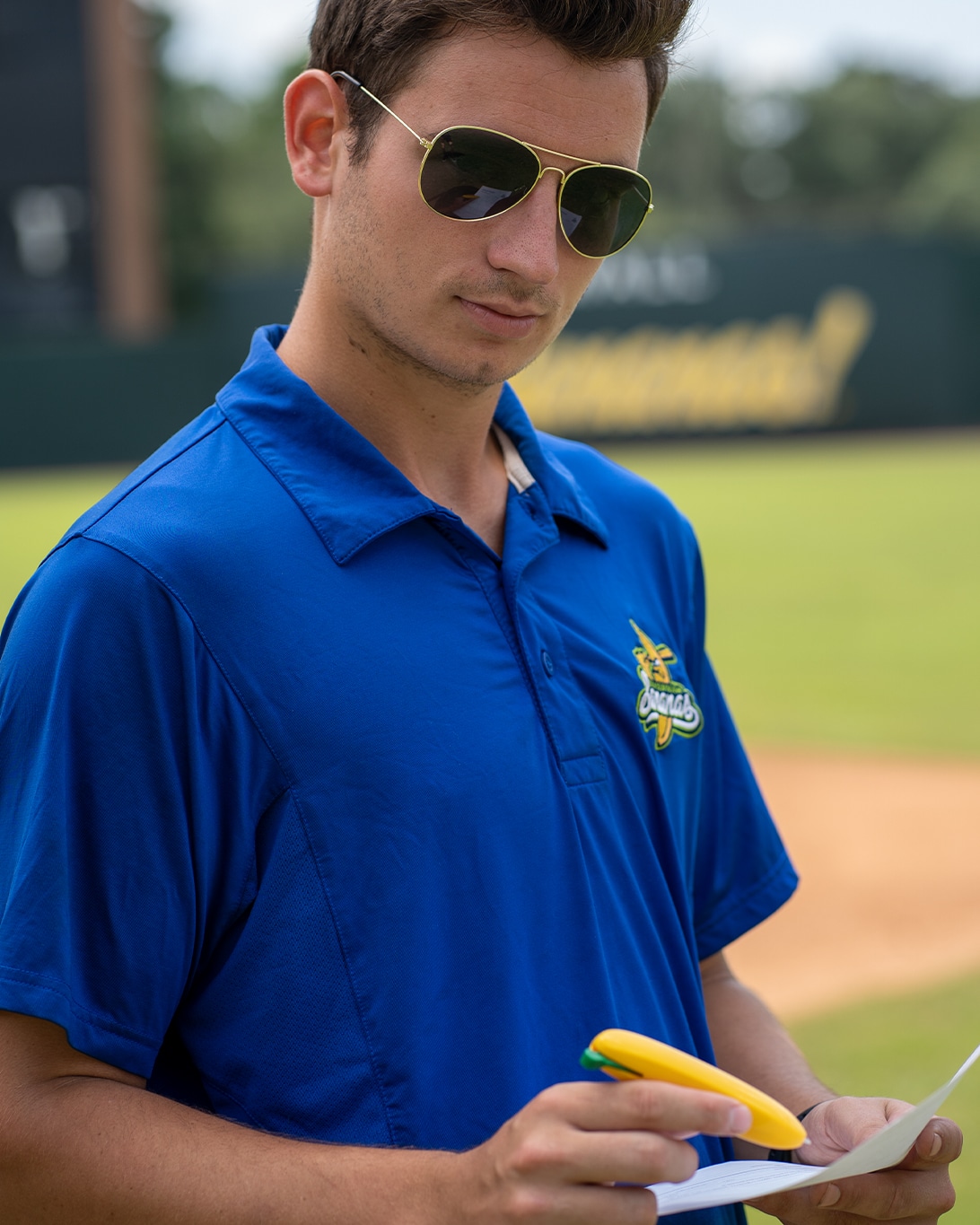 Evan Olowiany
Group Experience Coordinator
Hometown:
Lacey, New Jersey
College:
Georgia Southern University
Favorite Cereal: Great Value Fruity Pebbles
After graduating from Georgia Southern in 2021, Evan began an internship with the Savannah Bananas. He accepted the position of Group Sales Coordinator after the season and is looking forward to keep growing as a Banana! Evan loves the atmosphere down south as it is a bit different from his hometown in New Jersey. He is ready to make personal connections and creating lifelong fans as he continues his new role with the Bananas.
Mandolyn Howard
Hometown:
Wrens, GA
College:
Georgia Southern University
Favorite Drink: Sweet Tea
Favorite Movie: The Game Plan
Mandolyn started interning with the Banana team in the Summer of 2021! She recently accepted her full time position as Merchandise Coordinator in September 2021! Mandolyn spent her time at Georgia Southern University cheering on her Eagles before becoming a die hard Banana fan. She looks forward to bringing all of her knowledge about clothing and merchandising to the team!
Lauren Henderson
Hometown:
Columbia, CT
College:
University of South Carolina Beaufort
Favorite food: Penne alla vodka
Favorite movie: Mamma Mia
Lauren is very excited to be part of the Bananas front office team and create fun, memorable experiences for all fans! Lauren enjoys the personal connections that she gets to make with each fan here in Savannah and plans on expanding those connections to fans for our shows on the road as well! In her down time, she enjoys spending time with her family and going to the beach.
Kyle Luigs
Premier Team Player & Banana Academy Instructor
Hometown:
Richmond Hill, GA
College:
Jacksonville State University
Hobby: The most dedicated below average golfer you will ever meet
Fun Fact: Has hit more home runs than Bill in Grayson Stadium
Kyle was pretty much born and raised in the town of Richmond Hill, Georgia, just outside of Savannah. He was a pitcher for the collegiate CPL team under the Bananas for the previous four summers, and a member of the 2021 CPL championship team. Baseball is his driving passion in life, and now being able to continue to play for the premier team to and be in charge of running the academy will give Kyle a chance to "never work a day in his life" as the second half of the well known saying goes. When he's not at the stadium, you can find Kyle on the golf course, spending time with family and friends, or rewatching Marvel movies for the 100th time.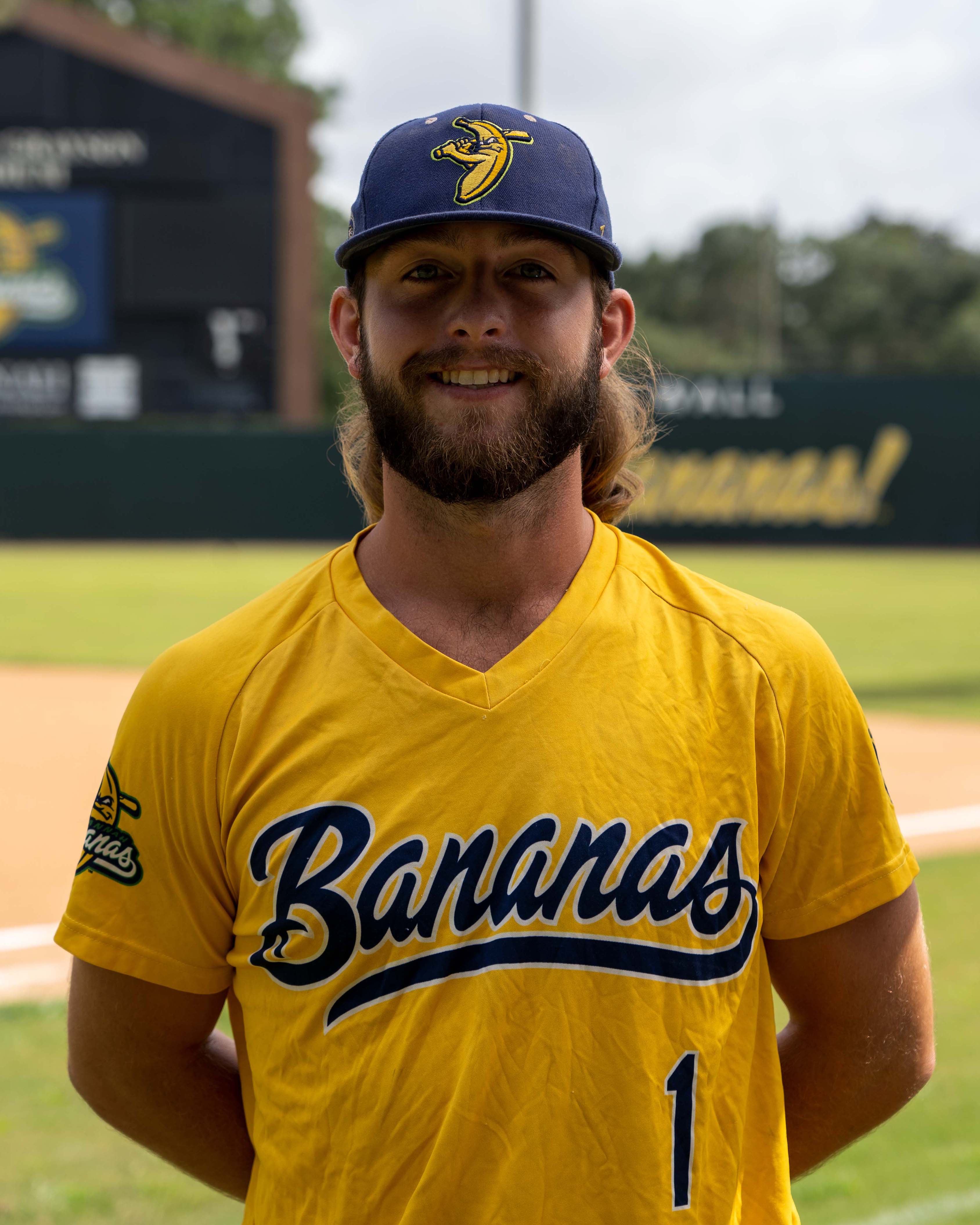 Bill Leroy
Premier Team Player & Banana Academy Instructor
Hometown:
Dublin, Georgia
College:
University of North Georgia
Secret Talent: Excellent breakfast chef
Hobby: Hosting 2 below average tv-shows
Bill has played 4 summers with the summer collegiate CPL Bananas team, and has decided to extend his lifelong quest of playing baseball for the Bananas by joining the Bananas Premier Team. The country boy from Dublin loves anything in the outdoors, especially fishing, hunting, and golfing. He has added some much needed twang to the office, but will surprise you with the variety of music he listens to and the dance moves that go along with it.
Tucker Brooks
Employee Experience Coordinator
Hometown:
Charlotte, NC
College:
NC State
Dream Car: 1982 Airstream Excella 26
I cry your mercy, for today… today, you find yourselves equals.
For you are all equally blessed. For I have the pride, the privilege, nay, the pleasure of introducing to you to an employee experience coordinator, sired by employee experience coordinators. Hailing from the great State of North Carolina we are joined by a husband, a brother… a son. A Packers and Crimson Tide fanatic. He's a runner he's a track star, and he's been hit by a car attempting to bike across the country. In Greece he spent a year in silence just to better understand the sound of a whisper. And so, without further gilding the lily and with no more ado, I give to you, the seeker of serenity, the hirer of seasonal staff, a disciple of the Lord our God himself, the one, the only, Tucker (Buddy) Brooks.
Nick Alo
Ticket Operations Coordinator
Hometown:
Cumming, GA
College:
Georgia Southern University
Fun Fact: Once ate 48 wings at one time
Favorite Board Game: Monopoly
Originally from Cumming, GA, Nick went to school at Georgia Southern University where he gained a degree in Sports Management. Nick is super excited to join the Bananas family and create the awesome connections with the Bananas fan base! Outside of the office you can catch him putting his hammock up somewhere and jamming to a Two Friends Big Bootie Mix or watching his Georgia Southern Eagles compete as the best triple option football team in the country.
Ivan Traczuk
Director of Creative Content
Hometown:
Ocean City, NJ
College:
University of Miami
Favorite Movie: Good Will Hunting
Favorite Holiday: Thanksgiving
Ivan joined the Bananas in early 2022 after spending previous years in Los Angeles. Though he only experienced two celebrity sightings, so did he really live there? He's originally from Philadelphia but calls the Jersey Shore home. He doesn't know Snooki, so jury's still out on whether he actually lived there either. He studied at the University of Miami and Syracuse University, which led Ivan to the MLB Network winning an Emmy with Broadcast Entertainer Biko Skalla (we swear he knows Biko).
Ivan is also a hula hoop champion, a marathon finisher, a proud cancer survivor, and runner-up in the coveted Mr. OCHS male pageant show. Ivan credits his success and positive personality to his mother and two older sisters who showed him tough love and supported him in every decision and obstacle he's ever faced!
Zack Breaux
Director of Film and Production
Hometown:
Cut Off, LA
College:
Northwestern State University
Favorite holiday: Mardi Gras
Favorite band: The Revivalist
Zack Breaux, pronounced "bro", is just a bayou boy from South Louisiana navigating the big waters of the world. You can find him anywhere there's good food and live music. He loves cooking for friends and family and believes you can solve all of the world's big problems over a 3 course meal at family dinner time. A lover of the swamp and salt water marshes, he grew up on the water. Literally, they don't call him "Bayou Boy" for no reason. You can refer to Zack as: Bro Bro, Bayou Boy, Bayou Boy Breaux, ZB, or just Zack Breaux! His loyalties will always be with the New Orleans Saints and is a firm believer that the only thing to beat Saturday nights in Death Valley are ball games at Grayson Stadium.