Bananas Front Office Team
Carson Bowen
Ticket Experience Director
Hometown:
Apex, NC
College:
UNC Wilmington
Although he's a habitual ICEE enjoyer, he has never gotten brain-freeze
Can cook minute rice in 58 seconds
Having been in the industry since 2014, Carson is excited to be part of the Bananas front office team and dial in on the Ticket Experience! A former human baby and current proud graduate of UNC-Wilmington, Carson wants to camp in every state in America before he is 35.
Prior to joining the Bananas, Carson helped revitalize his previous team in Wilmington, NC by reinventing the game day experience for fans and doubling attendance from when he first joined the organization as a play-by-play commentator until he finished up his days with the organization as General Manager.
Carson takes great pride when commandeering control of the bluetooth speaker at the gathering, and spends too much time researching local history just to be the annoying guy who will point at buildings while walking downtown to say "Hey, did you know that…" followed by a fact that is most likely mis-remembered, but told with enough confidence to be believable.
Jared Orton
Hometown:
Burlington, N.C.
College:
Belmont Abbey
Favorite Artist: Taylor Swift
Jared began working with Fans First Entertainment with Savannah's sister team in Gastonia, NC. while he completed his degree in Sport Management at Belmont Abbey College. While with the Grizzlies, attendance grew to new heights for the franchise as Jared began to tap into new niches of fans in the marketplace. After the 2013 season in Gastonia, Jared became the Assistant General Manager of his hometown Burlington Royals.
Because of a relentless focus on entertainment and ticket sales, the Royals were fortunate to see tremendous growth in attendance and revenue during the 2014 and 2015 seasons. Jared is now taking those experiences, along with the experiences of Fans First Entertainment, to develop a value-packed, non-stop, entertainment experience for Savannah fans. Jared currently lives in Savannah with his wife, Kelsey. Click here to meet Jared!
Berry Aldridge
Baseball Operations Coordinator
Hometown:
Swainsboro, GA
College:
Armstrong State University
Favorite Quote: "Sometimes you win, sometimes you lose, and sometimes it rains." - Ebbie Calvin "Nuke" Laloosh
Interesting Fact: Was chased out of the woods by a mama black bear with cubs.
Berry joined the Banana family full time after interning with the team during the 2016 season. He is now going into his 6th season with the team and is transitioning into a new role, Baseball Operations Coordinator. He is originally from Swainsboro, GA, where his father coached baseball and his mother taught English Literature. He attended Armstrong here in Savannah, GA on a baseball scholarship and earned a Bachelor's degree in English Literature. Berry is excited to work with the coaching staff to teach the Bananas' players our brand of baseball and help them receive national exposure to further their careers.
Patrick Briody
Hometown:
Bluffton, SC
College:
Coastal Carolina University
Hobbies: Golfing, reading, and dressing up as a banana.
Favorite Song: Free Bird- Lynyrd Skynyrd
Patrick, a member of the OG 2016 intern squad, has been with the team since the inaugural season. He looks forward to selling out games and bringing the Bananas experience of a lifetime to different cities on the road. Patrick can be found on any and every golf course in the low country and when he's not in the tee box, he's most likely next to the pond with a fishing pole and some bait. Click here to meet Patrick!
Devon Ashton
Group Experience Coordinator
Hometown:
Hudson, OH
College:
University of South Carolina
Favorite Foods: Pizza and Pasta
Knows every word to every Jonas Brothers song
Devon interned for the Bananas in 2017 and joined full-time in 2019. Following her graduation from the University of South Carolina, Devon worked as an event coordinator in beautiful Hilton Head Island, SC. Her passion for helping create amazing experiences for people will spearhead her efforts to take care of Bananas fans throughout the year! Devon has been deemed the cat lady of the office with her two cute cats, Ripley and Remy. Make sure to ask to see pictures!
Kurt Kessler
Group Experience Coordinator
Hometown:
Dalton, GA
College:
Liberty University
Favorite Movie: Forrest Gump
Was a contestant on Wheel of Fortune
Kurt joined the Group Experience Team in January 2021 and has the unique experience of seeing a Bananas games from several different perspectives when it comes to groups. Kurt brought a group from his church out to a game in 2017 (where he won the Best Bark Award at Bark in the Park), worked as Usher Team Captain during the summer of 2020, and now gets to help groups find the same amazing experience he had when he was a group leader! In his free time Kurt loves spending time with his fiancé and their four kids: Isaac, Braeden, Mason, and Troy. When not helping groups you can find Kurt in his garage creating some amazing woodworking.
Lizzy Mackerty
Hometown:
Hamilton, OH
College:
Ohio University
Favorite Promotion: Dancing in the dark
Favorite BallPark Food: Chicken Sandwiches
Lizzy moved to Savannah in the summer of 2015. She loves the southern charm and all the excitement Savannah has to offer. Lizzy enjoys helping children & families make the best memories possible at Grayson Stadium by coordinating host families, child & adult birthday parties, and both Savannah Bananas baseball camps. She also runs our Merchandise Department! You can always find her in the Banana Stand during games. She looks forward to another successful season full of amazing fans and great baseball! Click here to meet Lizzy!
Marie Matzinger
Hometown:
Greensboro, NC
College:
Gardner-Webb University
Favorite Food Group: Queso
Favorite Quote: "Perhaps this is the moment for which you were created." - Ester 4:14
Marie moved to Savannah in 2015 to help Fans First Entertainment launch the new team and has been blessed to see the Banana Pandemonium unfold since day one. While she's worn many hats during her time with the team, Marie now focuses on making sure our full time and part time staff are equipped with the tools they need to be Fans First. She's passionate about growing our team culture and bringing people onboard that raise our bar! When she's not at the stadium, Marie loves trying new restaurants and breweries with her husband. Marie's proud to call Savannah home and looks forward to seeing how the Bananas can continue to bring people together.
Kara Heater
Hometown:
Savannah, GA
College:
Georgia Southern University
Hot Take: Pineapple belongs on pizza
Favorite Way to Eat Eggs: Deviled
Kara joined the Nanner team in 2018 as a Marketing Intern and has blessed the office ever since with her below-average jokes and useless knowledge of the now dispersed boy band, One Direction (may they rest in peace). She is a Savannah native and loves nothing more than the sweet smell of the marsh on that evening ride home. Her favorite part of marketing is being able to build relationships with fans online and working with the rest of the creative team to create the content you see online. When she's not in Bananaland, you can find her at her favorite Mexican Restaurant, Cancun, or relaxing on the couch playing games on her phone.
Savanah Alaniz
Hometown:
Corpus Christi, TX
College:
Texas A&M University-Corpus Christi
Go-to lunch spot: Chipotle
Favorite artist: Mac Miller & Zach Bryan
Yes, you read that right. Savanah with one N working for the Savannah (with two Ns) Bananas. Coming from the great state of Texas (where everything is in fact bigger), Savanah interned for the Bananas in 2020, self-proclaiming the title of TikTok Queen, then joined the team full time in 2021 and graduated from Texas A&M University-Corpus Christi in 2022. Her favorite part about marketing is interacting with fans online and then getting to meet them in person at games! When Savanah isn't coming up with fire Instagram captions or teaching players TikTok dances, she loves to hang out with her friends downtown or catch some rays at the beach with a Bud Light in hand. For more fun and fresh content, follow Sav on all social platforms, @savalaniz 🙂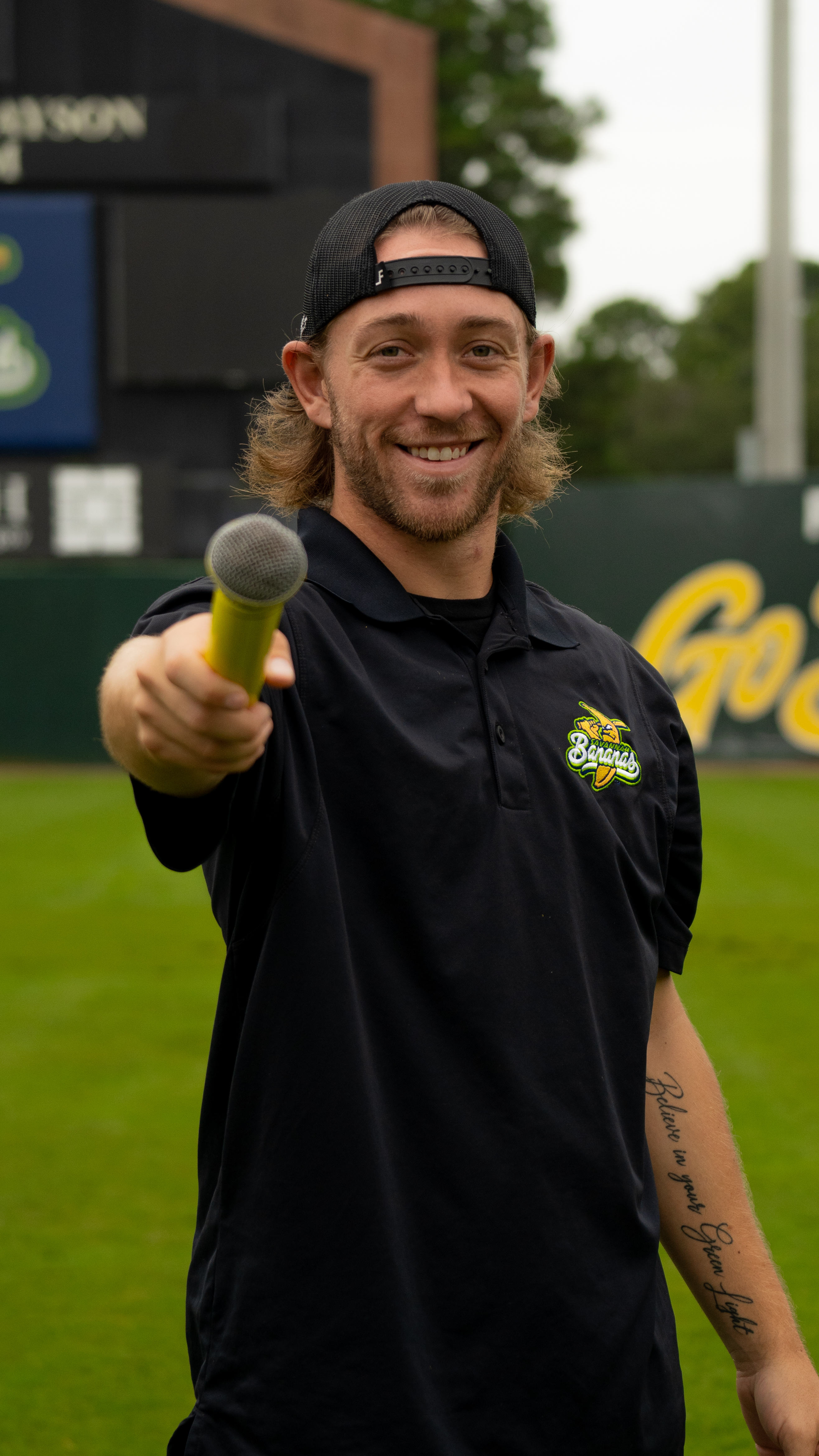 Zack Frongillo
Director of Entertainment
Hometown:
Littleton, Colorado
College:
University of Nevada Las Vegas
Favorite Artist: Cody Johnson
Is Batting 1.000 for the Savannah Bananas
Zack joined the Bananas family after the spring series in 2021, and shortly thereafter joined full time during the 2021 CPL Season as the Director of Entertainment. Previously, Zack joined the Vegas Golden Knights Entertainment Team before their Inaugural Season in 2017. Zack was also the Entertainment Director for UNLV Hockey and assisted in regional tournaments with organizations such as the Pac-12, Mountain West, and WAC. When he's not around the stadium, you can find Zack on the golf course or tearing up the local country dance floor. Zack's favorite part of a game day is firing off all the special effects involved in the game!
Emily Cole
Favorite Things: Guys in Yellow Tuxes, Early Morning Runs w/ Girlfriends, Audiobooks, Mac & Cheese, Family Time, Renovating Old Houses, Craft Beer and Traveling
Prior to her work with Fans First Entertainment which began in 2011, Emily spent time with Ripken Baseball and the Augusta GreenJackes as well as the Vermont Lake Monsters and the Binghamton Mets. Emily's biggest passion with the team is working with the full time staff, interns, and hundreds of game day staff workers to focus on the culture, service, and logistics of events held at the ballpark.
After the birth of their son, Maverick, Emily stepped back a little from every day operations to raise Mav and the other children in their care (Jesse and Emily are foster parents) but can still be found often around the stadium. She also oversees their Airbnb rentals on Tybee and wrote the team's first children's book, titled Go Bananas! which you can read more about here.
Jesse Cole
Fun Fact: Cole owns seven yellow tuxedos and proposed to his wife Emily in the yellow tux in front of a sold out crowd. She said Yes! The two later married at their stadium. In 2018, they welcomed their first baby banana, Maverick.
Jesse is the founder of Fans First Entertainment, who owns and operates the Savannah Bananas. The Bananas have welcomed more than 1 million fans to their ballpark and have been featured on MSNBC, CBS Sunday Morning, Access Hollywood, HBO Real Sports, CNN, and ESPN.
The Savannah Bananas currently have sold out every game since the first season and have a wait list for tickets that's over 90,000.
Cole is an in-demand speaker and author of "Find Your Yellow Tux – How to Be Successful by Standing Out," and "Fans First, Change the Game, Break the Rules & Create an Unforgettable Experience."
Cole believes to be successful you need to Stand Out and Be Different. He releases blogs and videos regularly on LinkedIn. He is passionate about creating attention, loving your customers more than your product and loving your employees more than your customers. Cole's mantra is "Whatever's normal, do the exact opposite."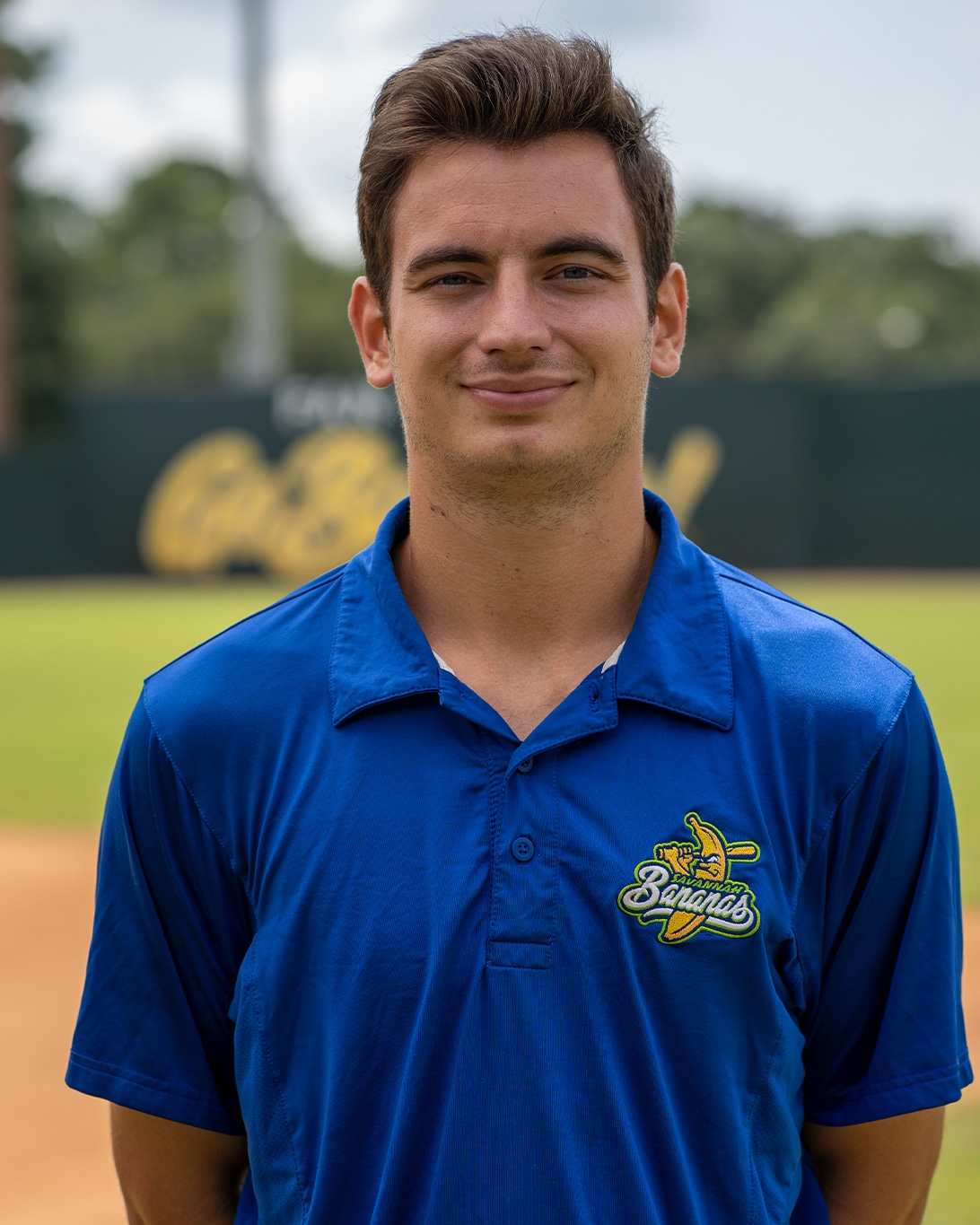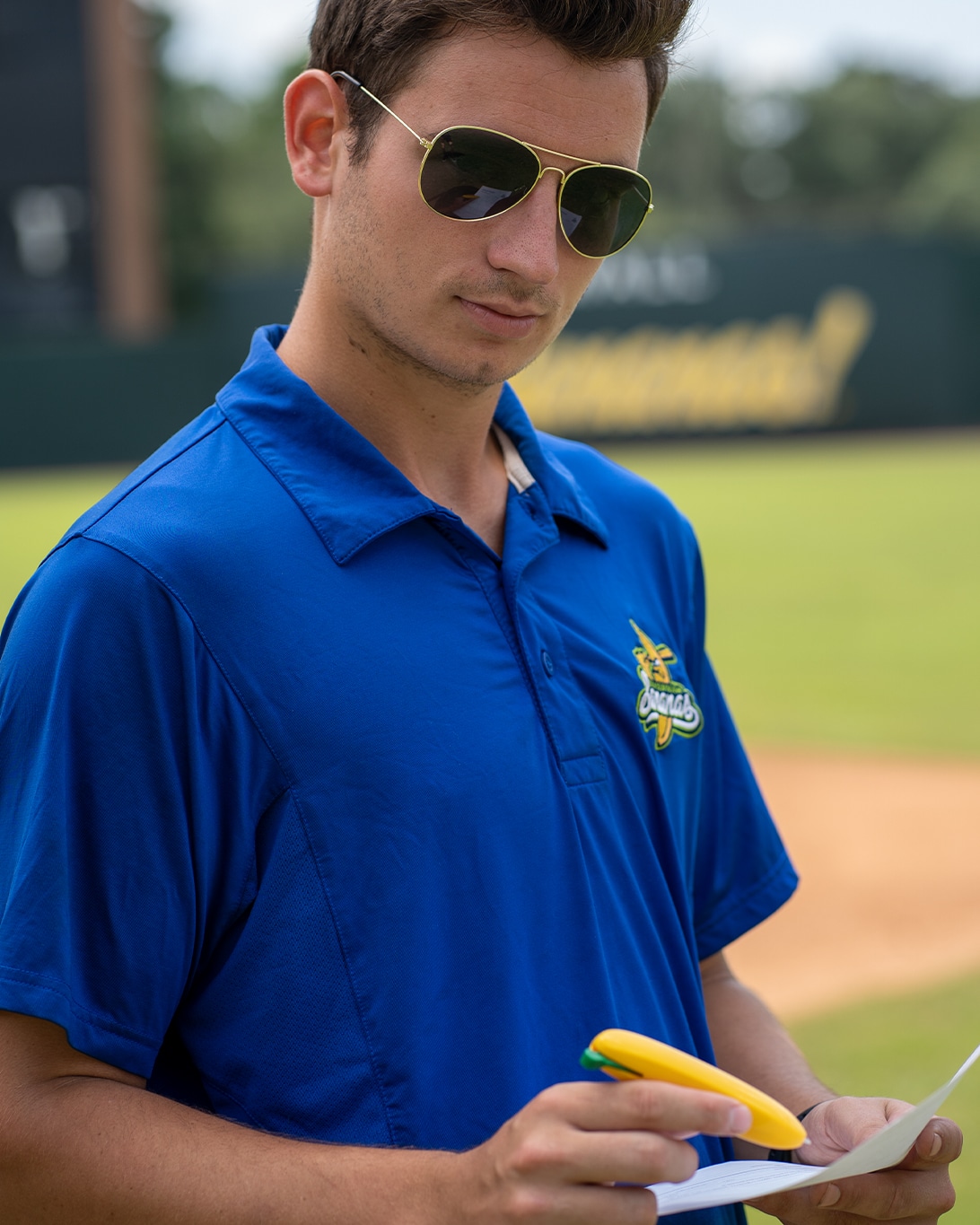 Evan Olowiany
Group Experience Coordinator
Hometown:
Lacey, New Jersey
College:
Georgia Southern University
Favorite Food: Applebee's Boneless Buffalo Wings
Favorite Activity: Golfing
After graduating from Georgia Southern in 2021, Evan began an internship with the Savannah Bananas. He accepted the position of Group Sales Coordinator after the season and is looking forward to keep growing as a Banana! Evan loves the atmosphere down south as it is a bit different from his hometown in New Jersey. He is ready to make personal connections and creating lifelong fans as he continues his new role with the Bananas.
Mandolyn Howard
Hometown:
Wrens, GA
College:
Georgia Southern University
Favorite Drink: Sweet Tea
Favorite Movie: The Game Plan
Mandolyn started interning with the Banana team in the Summer of 2021 and accepted her full time position as Merchandise Coordinator in September 2021! Mandolyn spent her time at Georgia Southern University cheering on her Eagles before becoming a die hard Banana fan. She looks forward to bringing all of her knowledge about clothing and merchandising to the team!
Lauren Henderson
Hometown:
Columbia, CT
College:
University of South Carolina Beaufort
Favorite food: Penne alla vodka
Favorite movie: Mamma Mia
Lauren is very excited to be part of the Bananas front office team and create fun, memorable experiences for all fans! Lauren enjoys the personal connections that she gets to make with each fan here in Savannah and during the shows on the road as well! In her down time, she enjoys spending time with her family and going to the beach.
Kyle Luigs
Premier Team Player & Banana Academy Instructor
Hometown:
Richmond Hill, GA
College:
Jacksonville State University
Is Hasbulla's biggest fan
Does not know how to swim
Kyle has been a pitcher for the Bananas since 2018, and was a member of the 2021 CPL championship team. He also is in charge and oversees all of the youth camps that the Bananas put on! He has successfully completed numerous synchronized dances during games, and is open to anything that the fans will find entertaining. Kyle played three years at the University of North Georgia before transferring to play his last year of eligibility at Jacksonville State University. In his free time he enjoys going on spur of the moment trips, taking naps, and playing golf. Line dancing is among the latest talent he has mastered in his life long journey of being at least average in every aspect of life.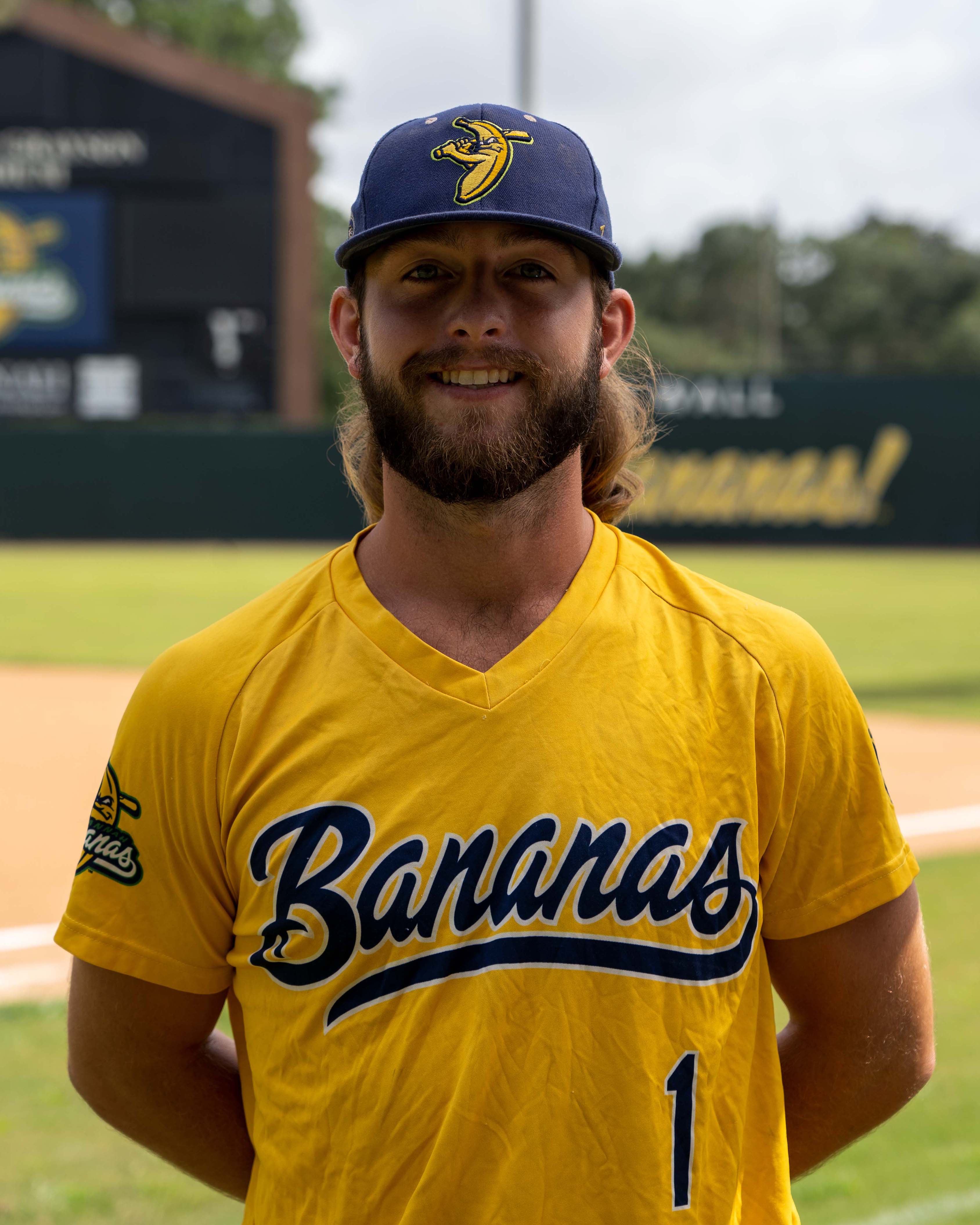 Bill LeRoy
Premier Team Player & Banana Academy Instructor
Hometown:
Dublin, Georgia
College:
University of North Georgia
Secret Talent: Excellent breakfast chef
Hobby: Hosting 2 below average tv-shows
Bill has played 4 summers with the summer collegiate CPL Bananas team, and has decided to extend his lifelong quest of playing baseball for the Bananas by joining the Bananas Premier Team. The country boy from Dublin loves anything in the outdoors, especially fishing, hunting, and golfing. He has added some much needed twang to the office, but will surprise you with the variety of music he listens to and the dance moves that go along with it.
Tucker Brooks
Employee Experience Coordinator
Hometown:
Charlotte, NC
College:
NC State
Has danced alone with MC Hammer to no music in the California Red Woods
Once sat two rows behind Donald Trump at a sumo wrestling match in Tokyo
I cry your mercy, for today… today, you find yourselves equals.
For you are all equally blessed. For I have the pride, the privilege, nay, the pleasure of introducing to you to an employee experience coordinator, sired by employee experience coordinators. Hailing from the great State of North Carolina we are joined by a husband, a brother… a son. A Packers and Crimson Tide fanatic. He's a runner he's a track star, and he's been hit by a car attempting to bike across the country. In Greece he spent a year in silence just to better understand the sound of a whisper. And so, without further gilding the lily and with no more ado, I give to you, the seeker of serenity, the hirer of seasonal staff, a disciple of the Lord our God himself, the one, the only, Tucker (Buddy) Brooks.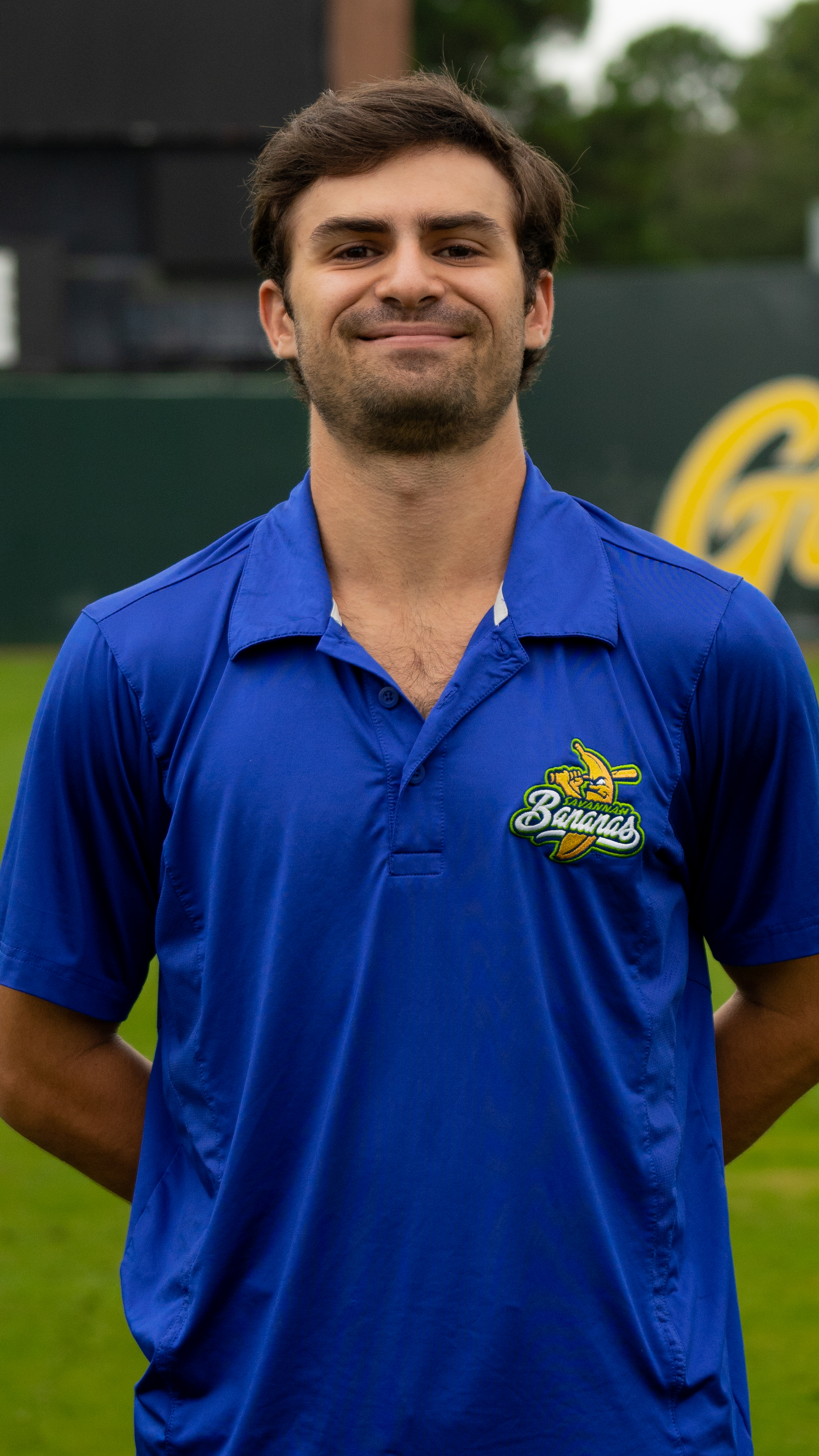 Nick Alo
Ticket Operations Coordinator
Hometown:
Cumming, GA
College:
Georgia Southern University
Once ate 48 wings at one time
Bananas Resident Big Bootie Mix Expert
Originally from Cumming, GA, Nick Made a brief 4 year stop at Georgia Southern University where he studied Sport Management and played Men's Lacrosse. As the Bananas resident Big Bootie Mix (made famous by the electric electronic duo Two Friends) Expert and Eno hammock enthusiast, he is claimed to be a "great vibe". Nick is really passionate about his faith and is excited to continue to grow with the Bananas Fan Base (aka the Best Fans in the Country).
Ivan Traczuk
Director of Creative Content
Hometown:
Ocean City, NJ
College:
University of Miami
Favorite Movie: Good Will Hunting
Favorite Holiday: Thanksgiving
Ivan joined the Bananas in January 2022 after spending previous years in Los Angeles; though he only experienced two celebrity sightings, so did he really live there? He's originally from Philadelphia but calls the Jersey Shore home. He doesn't know Snooki though, so jury's still out on whether he actually lived there either. He studied at the University of Miami and Syracuse University, which led Ivan to the MLB Network winning an Emmy with Broadcast Entertainer Biko Skalla (we swear he knows Biko).
Ivan is also a hula hoop champion, a marathon finisher, a proud cancer survivor and runner-up of the coveted Mr. OCHS male pageant show. Ivan credits his success and positive personality to his mother and two older sisters who showed him tough love and supported him in every decision and obstacle he's ever faced!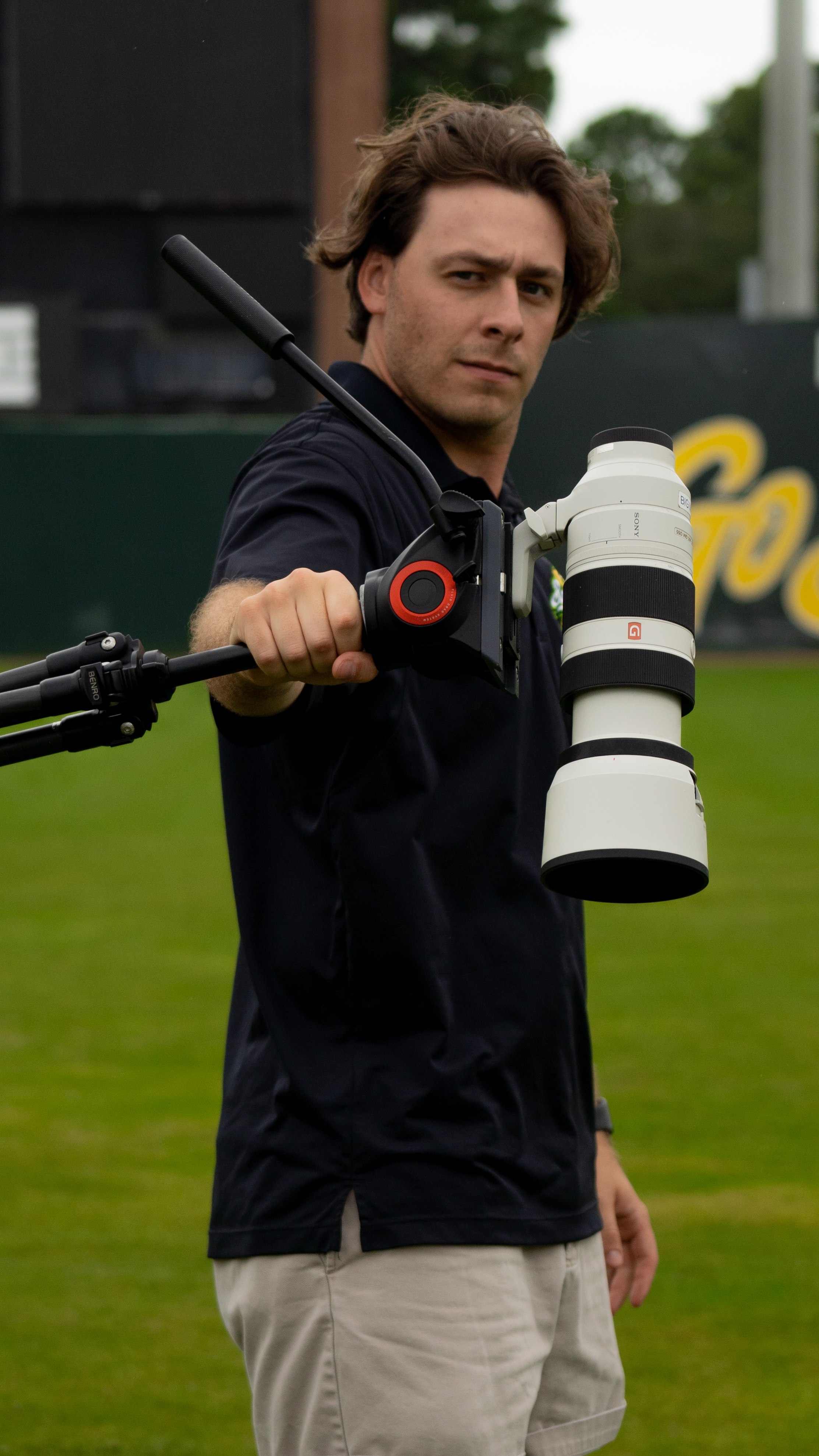 Zack Breaux
Director of Film and Production
Hometown:
Cut Off, LA
College:
Northwestern State University
Favorite holiday: Mardi Gras
Favorite band: The Revivalists
Zack Breaux, pronounced "bro", is just a bayou boy from South Louisiana navigating the big waters of the world. You can find him anywhere there's good food and live music. He loves cooking for friends and family and believes you can solve all of the world's big problems over a 3 course meal at family dinner. A lover of the swamp and salt water marshes, he grew up on the water. Literally, they don't call him "Bayou Boy" for no reason. You can refer to Zack as: Bro Bro, ZB, or just Zack Breaux! His loyalties will always be with the New Orleans Saints and is a firm believer that the only thing to beat Saturday nights in Death Valley are ball games at Grayson Stadium.
Biko Skalla
Hometown:
Saugerties, NY
College:
Syracuse University
Favorite Movie: The Lord of the Rings
Biko joined the Bananas as the Broadcast Entertainer in 2020 and is the first Emmy-Award winning employee on the Bananas team. No, we're not joking. Hailing from Saugerties, New York, Biko came to Savannah after a couple years at MLB/NHL Network where he was a Broadcast Associate and then an Associate Producer. A Syracuse University graduate, Biko bleeds orange and prides himself a scholar of New York Yankees history. When he's not broadcasting baseball or doing weird interviews with players, you can often find him on his dad and stepmom's farm in Saugerties playing with the dogs or sharing baseball cards with the goats. Keep up with all of Biko's shenanigans on Twitter and Instagram at @BikoRicoSuave!
Tara Whiddon
Executive Rock Star to Jared
Hometown:
Bainbridge, GA
College:
University of Montevallo
Caffeinated Coffee Enthusiast
Tara joined the Bananas team in February of 2022 as an Entertainment Intern where the Bananas quickly discovered her love and passion for organization and planning. Originally from the big city of Tallahassee, FL, she now calls the muddy waters of Bainbridge, GA home. This is where her beloved beagle, Silas, resides there as well as her best friends (aka parents and brother) Tal, Roxane and Trevor. Tara likes to explore the world hence why she went to four different colleges – two for undergraduate eventually earning her BS of Exercise Science from the University of Montevallo and is currently getting her MS of Sports Administration from Liberty University.
Tara has a passion for God, Taylor Swift and Diet Coke. You can find her on her off days at the beach reading a book or brunching it downtown with friends.
Tim Naddy
Vice President of Finance
Hometown:
Satellite Beach, FL
College:
University of Florida
FAVORITE ARTIST: RED HOT CHILI PEPPERS
FASHION STATEMENT: SLEEVES ARE OVERRATED
Wait…he's a CPA?!?  Unequivocally, yes. Dr. Naddy has heard this quip many times throughout his expansive accounting career, which has encompassed: public/private/non-for-profit accounting; internet startup pioneering; private equity-backed international franchising; and, his all-time-favorite role, university professor-ing. Breaking the mold of your typical accountant, this Type A stirs what should be shaken with a pound of positivity seasoned with a pinch of panache. 
Espousing a personal mantra of Integrate, Educate, Elevate…and Entertain, Tim finds his stride in teaching and mentoring whether he's in the boardroom, classroom, or dugout. He and his wife Jennifer have three Naddy Boys who are all bunch of Bananas!
Neil Trumler
Food and Beverage Director
Hometown:
Overland Park, KS
College:
Oregon Culinary Institute
Favorite Fast Food Chain: Taco Bell
Once ran a half marathon in a Darth Vader mask
Neil is a lover of all things food. He attended Oregon Culinary Institute and graduated with honors in Portland, OR. Before landing in Savannah, Neil has lived and worked in 8 cities including Girdwood, AL and Melbourne AUS. In his free time, Neil loves spending time with his wife, Sarah, and his dog, Oscar.
Ret Weeks
Hometown:
Savannah, GA
College:
Georgia Southern
Fun Fact: I was a Cheerleader
Fun Fact 2: Took him two hours to come up with a fun fact
Ret was born and raised in Savannah and attended Calvary Day School before doing his undergrad in Finance at Georgia Southern University. He enjoys spending his weekends in his boat with his dog and friends. He also enjoys coaching cheer and going to Georgia Southern football games in the Fall. Ret started with the Bananas as a bartender in 2020 and is excited to continue his Bananas journey as the Operations Coordinator.
Matt DeWitt
Hometown:
Negaunee, MI
College:
Northern Michigan University
Was a gold medal swimmer in high school
Matt hails from the Upper Peninsula of Michigan, where he spent most of his life shoveling snow and building his businesses. After over a decade as a full time DJ and almost a decade of bar ownership, he relocated to Savannah with his wife and their pack of hairless animals. He immediately fell in love with the area and became a hardcore Bananas fan. You can see him on game days as Captain Matt, Plaza DJ and Man-Nana on the Dad Bod Cheer Squad. Behind the scenes, he's a ninja, so you probably won't see him. On his days off, he loves hanging out at his Tiki bar and watching bad movies.
Gabby Woodhouse
Merchandise Fulfillment Coordinator
Hometown:
Suwanee, GA
College:
Liberty University
Favorite snack: movie theater popcorn
Makes the best homemade Buffalo chicken dip
Starting her Bananas journey doing a little bit of many things, Gabby has loved getting to experience all the various areas that make up this Banana Bunch! She is now thrilled to join the Merchandise Department in this new role and is most excited to find unique and creative ways to bring the Fans First experience to our merchandise and online store experiences which extend past the ballpark.
Though you may not see her at her desk often, you can probably find her out back in the fulfillment area, coffee in one hand and shipping labels in the other, organizing something, receiving merch deliveries, moving boxes, or looking for her keys and/or phone. Gabby is also a freelance photographer, an avid Enneagram enthusiast, and obsessed with doggos. When she's not at the stadium you can find her beachin' it with friends, hanging out in a coffee shop, finding adventures to get into, and trying new things.
Taylor Tinker
Executive Rock Star to Jesse
Hometown:
Farmington, Missouri
College:
Indiana University
Spent 3 years living in Germany
Met her husband on her first day of working for the Bananas
Taylor first joined the Banana bunch in 2018 as the Director of Events where she hosted the Tap of the Morning Beer festival, All You Can Eat Food Truck festival, and much more! In 2019 Taylor peeled out of Savannah and headed to Germany where her husband is stationed with the Army. Luckily the stars aligned, and Taylor is back working with the Bananas as the Executive Rock Star to Jesse Cole. She loves every minute of representing the Bananas in the most Fans First way possible!
Taylor is terrified of birds, obsessed with her Dalmatian (Pongo), and is always looking for a way to brighten someone's day!