MEET OUR FRONT OFFICE TEAM
Jared Orton
President
Hometown:
Burlington, N.C.
College:
Belmont Abbey
Favorite Artist: Taylor Swift
Fun Fact: Decaf Coffee Enthusiast
Jared began working with Fans First Entertainment with Savannah's sister team in Gastonia, NC. while he completed his degree in Sport Management at Belmont Abbey College. While with the Grizzlies, attendance grew to new heights for the franchise as Jared began to tap into new niches of fans in the marketplace. After the 2013 season in Gastonia, Jared became the Assistant General Manager of his hometown Burlington Royals.
Because of a relentless focus on entertainment and ticket sales, the Royals were fortunate to see tremendous growth in attendance and revenue during the 2014 and 2015 seasons. Jared is now taking those experiences, along with the experiences of Fans First Entertainment, to develop a value-packed, non-stop, entertainment experience for Savannah fans. Jared currently lives in Savannah with his wife, Kelsey. Click here to meet Jared!
Lizzy Mackerty
Director of Merchandise
Hometown:
Hamilton, OH
College:
Ohio University
Favorite Promotion: Dancing in the dark
Favorite BallPark Food: Chicken Sandwiches
Lizzy moved to Savannah in the summer of 2015. She loves the southern charm and all the excitement Savannah has to offer. Lizzy enjoys helping children & families make the best memories possible at Grayson Stadium by coordinating host families, child & adult birthday parties, and both Savannah Bananas baseball camps. She also runs our Merchandise Department! You can always find her in the Banana Stand during games. She looks forward to another successful season full of amazing fans and great baseball! Click here to meet Lizzy!
Mandolyn Howard
Merchandise Coordinator
Hometown:
Wrens, GA
College:
Georgia Southern University
Favorite Drink: Sweet Tea
Favorite Movie: The Game Plan
Mandolyn started interning with the Banana team in the Summer of 2021! She recently accepted her full time position as Merchandise Coordinator in September 2021! Mandolyn spent her time at Georgia Southern University cheering on her Eagles before becoming a die hard Banana fan. She looks forward to bringing all of her knowledge about clothing and merchandising to the team!
PEOPLE & OPERATIONS TEAM:
BASEBALL OPERATIONS TEAM:
Berry Aldridge
Baseball Operations Coordinator
Hometown:
Swainsboro, GA
College:
Armstrong State University
Favorite Quote: "Sometimes you win, sometimes you lose, and sometimes it rains." - Ebbie Calvin "Nuke" Laloosh
Interesting Fact: Was chased out of the woods by a mama black bear with cubs.
Berry joined the Banana family full time after interning with the team during the 2016 season. He is now going into his 6th season with the team and is transitioning into a new role, Baseball Operations Coordinator. He is originally from Swainsboro, GA, where his father coached baseball and his mother taught English Literature. He attended Armstrong here in Savannah, GA on a baseball scholarship and earned a Bachelor's degree in English Literature. Berry is excited to work with the coaching staff to teach the Bananas' players our brand of baseball and help them receive national exposure to further their careers.
Kyle Luigs
Premier Team Player & Banana Academy Instructor
Hometown:
Richmond Hill, GA
College:
Jacksonville State University
Hobby: The most dedicated below average golfer you will ever meet
Fun Fact: Has hit more home runs than Bill in Grayson Stadium
Kyle was pretty much born and raised in the town of Richmond Hill, Georgia, just outside of Savannah. He was a pitcher for the collegiate CPL team under the Bananas for the previous four summers, and a member of the 2021 CPL championship team. Baseball is his driving passion in life, and now being able to continue to play for the premier team to and be in charge of running the academy will give Kyle a chance to "never work a day in his life" as the second half of the well known saying goes. When he's not at the stadium, you can find Kyle on the golf course, spending time with family and friends, or rewatching Marvel movies for the 100th time.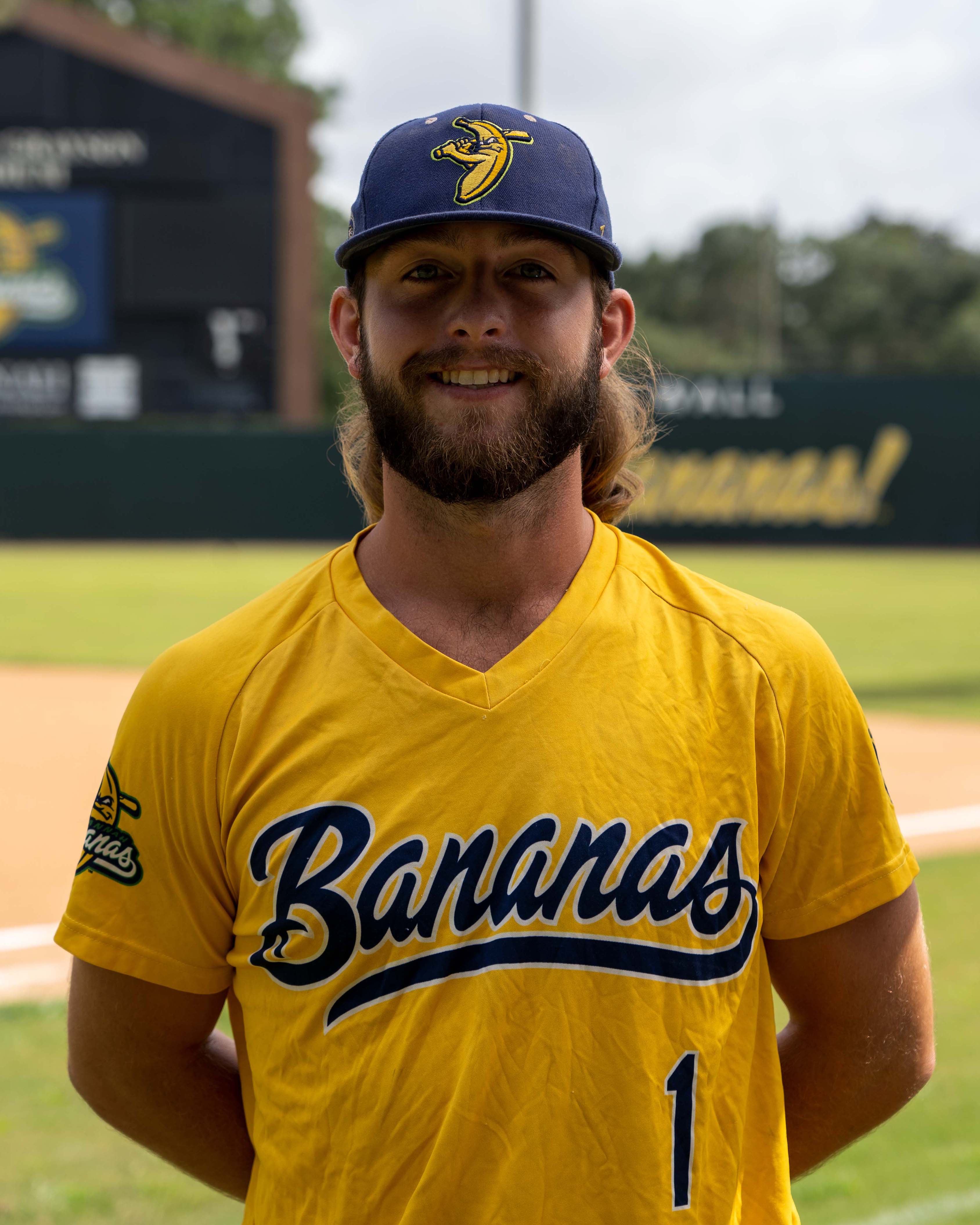 Bill Leroy
Premier Team Player & Banana Academy Instructor
Hometown:
Dublin, Georgia
College:
University of North Georgia
Secret Talent: Excellent breakfast chef
Hobby: Hosting 2 below average tv-shows
Bill has played 4 summers with the summer collegiate CPL Bananas team, and has decided to extend his lifelong quest of playing baseball for the Bananas by joining the Bananas Premier Team. The country boy from Dublin loves anything in the outdoors, especially fishing, hunting, and golfing. He has added some much needed twang to the office, but will surprise you with the variety of music he listens to and the dance moves that go along with it.
Emily Cole
Owner
Favorite Things: Guys in Yellow Tuxes, Early Morning Runs w/ Girlfriends, Audiobooks, Mac & Cheese, Family Time, Renovating Old Houses, Craft Beer and Traveling
Prior to her work with Fans First Entertainment which began in 2011, Emily spent time with Ripken Baseball and the Augusta GreenJackes as well as the Vermont Lake Monsters and the Binghamton Mets. Emily's biggest passion with the team is working with the full time staff, interns, and hundreds of game day staff workers to focus on the culture,service, and logistics of events held at the ballpark.
After the birth of their son, Maverick, Emily stepped back a little from every day operations to raise Mav and the other children in their care (Jesse and Emily are foster parents) but can still be found often around the stadium. She also oversees their Airbnb rentals on Tybee and is the local Savannah community mom for Bambino, an app that connects parents and babysitters. Emily wrote the team's first children's book, titled Go Bananas! which you can read more about here.
Jesse Cole
Owner
Fun Fact: Cole owns seven yellow tuxedos and proposed to his wife Emily in the yellow tux in front of a sold out crowd.  She said Yes!  The two later married at their stadium.  In 2018, they welcomed their first baby banana, Maverick.
Jesse Cole is the founder of Fans First Entertainment and owner of the Savannah Bananas.
His teams have welcomed more than one million fans to their ballparks and have been featured on MSNBC, CNN, ESPN and in Entrepreneur Magazine. 
The Bananas have been awarded Organization of the Year, Entrepreneur of the Year, Business of the Year and won the CPL Championship in their first year.  Fans First Entertainment has been featured on the INC 5000 lists as one of the fastest growing companies in America.
The Savannah Bananas currently have sold out every game since their first season and have a waiting list in the thousands for tickets.
Jesse released his first book "Find Your Yellow Tux – How to Be Successful by Standing Out" in January of 2018 with a World Book Tour…at Epcot. 
Cole has been featured on over 500 podcasts and is an in-demand keynote speaker all over the country sharing the Fans First Experience on how to stand out, be different and create raving fans of both customers and employees.  
Cole is the Host of the Business Done Differently Podcast and has interviewed over 100 of some of the world's leading entrepreneurs, authors and speakers. Click here to meet Jesse!